Osteoporosis diagnostics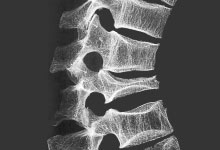 Every fourth woman above 50 suffers from osteoporosis, partially without even knowing that. Osteoporosis (bone atrophy) is one of risk factors leading to bone fractures. Especially in women going through menopause, the bone density is continuously reduced due to the decrease in concentration of female hormones.
In this way, the risk of bone fractures and spinal column curvatures increases. The risk of developing osteoporosis is even higher, if there are other risk factors such as hereditary predisposition, smoking, underweight or long-term administration of cortisone.
Detection of osteoporosis through bone density measurement
Through early detection of bone atrophy, it is possible to achieve good results by means of therapeutic or medicamentous methods. The bone density measurement (osteodensitometry) is used to determine the bone density by measuring the mineral salt content at the lumbar vertebrae.
The examination is absolutely painless and uncomplicated and does not require the administration of contrast agents. The special software will then calculate the average mineral salt content and compare it with the average statistical value determined among the population of a similar age.
The examination takes only a few minutes, the results are available very soon. They will indicate whether the bone density is reduced and how strong it is reduced or whether a therapy or some medicine should be applied.
Who bears the costs of the examination?
The detection of osteoporosis will be reimbursed by the statutory health insurance companies. A lot of private health insurances cover the costs of preventive medical check-ups. In individual cases, you should contact your insurance company to clarify the issue.
What should you pay attention to?
Within 8 days before the examination, you should not undergo any X-ray examinations requiring the administration of a contrast agent.